GelatoPassport is a simple but fast gelato formulation app web based. It's the tool that I've been using for 10 years to quickly formulate gelato or ice cream recipes.
GelatoPassport is simple to use, blazing fast, and gives you all the possible information regarding your recipes.
GelatoPassport is NOT a recipe archive (you cannot automatically save recipes inside the app), this is a professional tool to formulate recipes, it's not meant (at the moment) as an archive to save recipes. If you want to save your recipes you can copy and paste them into an excel file or google sheet.
Demo
You can try the fully functional app with a limited database here: https://gelato.expert/demo/
Tutorials
You can have a look at how to use the app in the tutorials section.
Features GelatoPassport+
Standard database with over 150 ingredients
User friendly formulation interface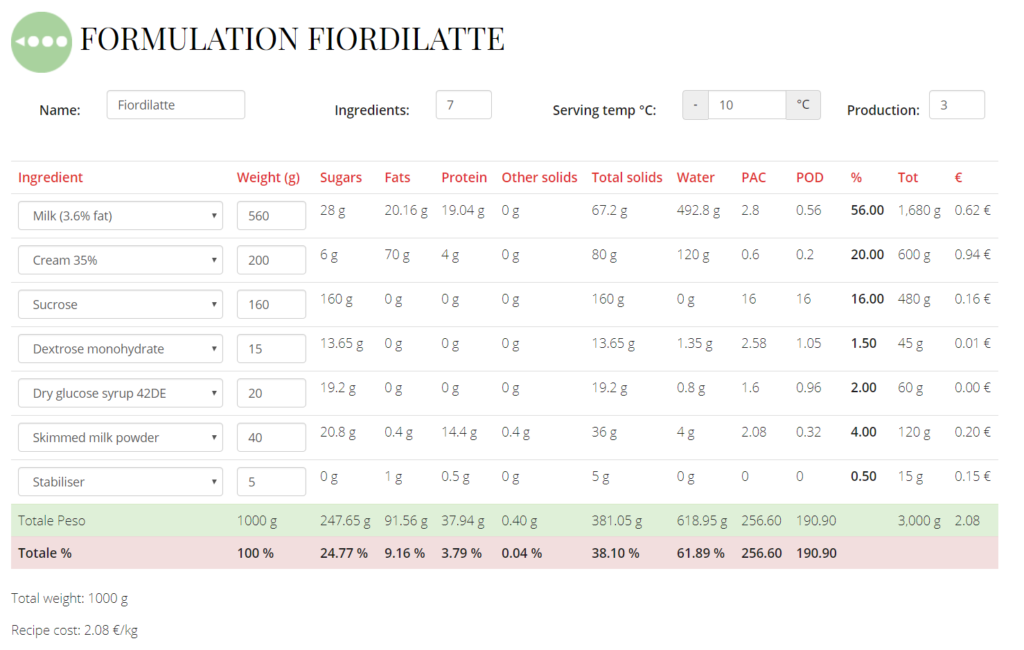 In-depth gelato formulation parameters
Nutritional values table (for USA and EU)
Personal database with possibility to add any ingredient and over 150 ingredients ready
Add a recipe as an ingredient in the database (e.g. you can save your white base as an ingredient in your database)
Summary of recipe to copy and paste to excel or any document
Production distraction-free mode
Overrun calculator
Freezing curve
Freezing curve comparison (to compare different recipes)
Fatty acids balance
Ingredients cost incidence in %
Requirments
Internet connection
Google account
Price
200€ GelatoPassport+ (with personal editable database)
Register
Please write an email to info@gelato.expert to access the beta release of GelatoPassport+